It's 5 o'clock on Valentines Day. You don't have a gift for your lover because you spent all of your time getting your child/co-workers/everyone else but your significant other something cheap and crafty. Then you're sitting there, about to head home after a long day of everyone getting flowers sent to the office, with nothing to give your love. I am this person. Only thing is I'm stuck at the "office" on a graveyard shift while I help all of the young hopefuls get a cheap room and a quick smash before curfew (when I say young, I'm talking over 21).
Since my boyfriend and I are weird, we're doing things a little differently. While I won't spill on the twists that I have planned for him, I'm here to help you make your last minute plans for Valentine's Day. After all, it is Wednesday. The weekend is when you should really celebrate. Today is only  good for humping (see what I did there).
Be Creative.
You now have two days until Saturday, which means two days to get your shit together! It is now time to think outside of the box. Gather all of the things that your significant other likes and put it all together. For example, let's just say your man is a huge Eagles fan. The Eagles just won the Super Bowl so you can legit find anything Eagles around here. Literally. Even lingerie. Don't believe me?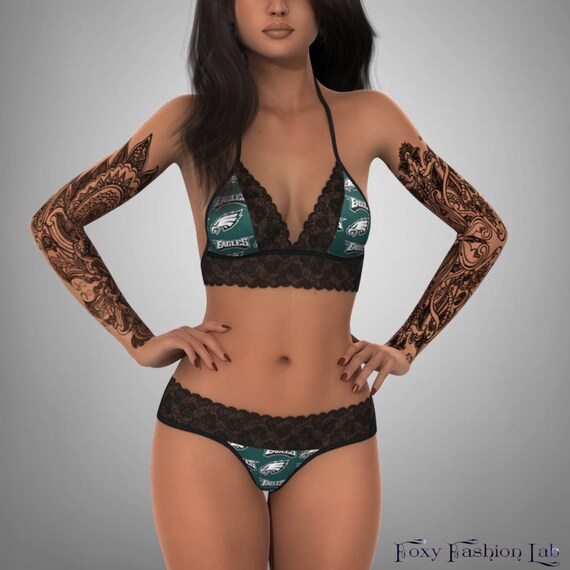 That is all thanks to FoxyFashionLab on Etsy. Gather all things Eagles, put it in a basket, gift bag, gift box, etc. and slap on this lovely little outfit and call it a date. He'll be your number one fan.
Food Makes the Heart Grow Fonder.
Okay, you can do one of two things: 1. Plan to have brunch or 2. Wait behind people who made reservations a month in advance at your local (and not so local) restaurants. Like I said before, it's Wednesday. Not many are going out tonight because this isn't a "real" holiday. We don't get the day off or anything so getting drunk off of wine and having sex all night is completely out of the question for most of us. The logical thing to do is wait until the weekend. Now I know you may think that only you came up with the bright idea to wait until the weekend, but let me assure you…you're not. Everyone and their grandmother is waiting until the weekend.
So, how do we avoid this? I know one place that will get you in and out in no time with anticipation of a full belly. That is the grocery store. Make a meal and get creative. Don't know what to cook? Create a menu of everything you do know how to cook, give it to your lover and let them decide the nights' courses. Add a little surprise dessert and her heart will melt in your hands. But, make sure the food is good and thoroughly cooked. If not, it could end badly.
For my non-cooking people, I don't judge. It's easy to find an up and coming chef looking to sell Valentine's day platters.
Sex.
Yeah, you know I have to go there. The sex can't be like regular basic stuff. Make it interesting! My best friend and I found this local low-key sex store that I should've been going to the moment I turned 21. They have EVERYTHING. Even stuff on display so that you can test the power, firmness, realness, and everything else (just don't put it "down there". It's forbidden). They even have sexy outfits for better prices than Victoria's Secret. If you ever wanted to try something different/new, now is the time. Enjoy.
Make A Memory That Lasts.
Do something you have never done before. Go somewhere you have never gone. Take a drive, a last minute road trip and make it count. See things. It's all about experience nowadays. Buying a hotel room for the night is overrated. Most likely you won't even go out of state. Just do it! Everyone else will be too busy waiting on their dinner reservations. As a hotel manager, please let me give a word of advice for those who plan on getting  room…
DO NOT SET UP THE ROOM WITH CANDLES AND FLOWER PETALS.
Here's why. Most flower petals leave a stain. Most hotel's use white bedding. Hot, sweaty, oily, steamy sex means stains on the blankets from the flower petals. Candles? Yeah that could lead to a fire alarm. Especially if there's enough of them lit. How embarrassing would it be if the fire alarm went off and you end up standing outside half naked? Trust me, these things happen. Alternatives would be fake flower petals and flameless candles. Please save yourself the embarrassment and extra charges on your credit card.
That's all I have for you! I hope I helped all of my procrastinating lovers out there. Comment if you really need some help with ideas. The real Valentine's Day is just a few days away!